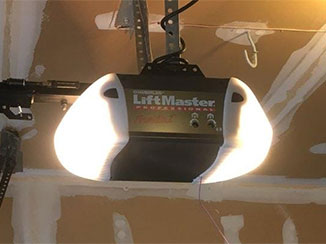 With a strong and silent garage door opener, you can enjoy automatic solutions that bring utility to a new level. LiftMaster openers bring you the latest innovation in the world of garage door automation. With Wi-Fi control features, you can monitor and operate your LiftMaster opener to open or close the garage door from anywhere in Rogers or other places via an online connection. Different drive systems and wireless remote controls for openers give you convenience and security at the touch of a button.
Chain Drive Opener Systems
Strong and reliable, a Rogers garage door opener with a chain drive system provides an affordable and trustworthy option for many setups. If you've got a heavy overhead door, a chain drive opener will provide an excellent way to support it without worrying about the weight. Requiring some maintenance to maintain optimal performance, LiftMaster chain drive garage door openers make for affordable options. And if the opener chain breaks, you can get it replaced at a fair price with no delays.
Belt Drive Garage Door Opener Models
For their super quiet running performance, belt drive openers provide attached garages an ideal solution. Want a motor for the garage door that doesn't make noise? Belt drive openers by LiftMaster maintain a virtually silent operation making them great for any garage with a bedroom nearby. You can use the machine to bring up the door without waking up anybody.
Smart LiftMaster Openers
Modern innovation has made garage door openers very safe and convenient to use. With smart LiftMaster garage door opener features, you can check the status of the door, open or close it with your smartphone, and even connect it with motion detection lights and more. With the sensitive LiftMaster opener sensors, you ensure safety at all times. The photo-eyes will detect obstacles in the garage door's path and the opener will reverse its movement to prevent accidents.
Rogers LiftMaster Garage Door Openers Installed Fast
Save yourself more than money, but time and effort too! Looking to upgrade to a new model? Consult with the professionals at Garage Door Repair Rogers to find the best motor and control system for your door setup. LiftMaster openers for garage doors offer quality builds and designs, with all sorts of smart remote control options. You can make everything easier and more secure with the LiftMaster garage door opener models available for installation by our expert technicians. Call for more information!