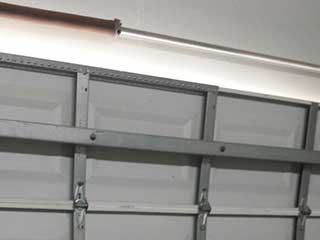 It's often understood that a broken spring on your garage door means trouble. And yet there are thousands of people in the US who every year get injured by trying to replace springs by themselves. The serious risks involved in this process should thwart any inexperienced DIYer's attempts, or at least so you'd think. When you need emergency garage door spring replacement because of an unexpected break, you can have a fast solution applied right away. By calling Garage Door Repair Rogers you can have broken springs replaced on the same day with no needless waiting or extra charges.
Leave Broken Spring Repairs to The Pros
We cannot underemphasize the dangers of replacing broken garage door springs. These devices carry and counter the weight of the door. That means that every time you use it, the garage door springs do a lot of work stabilizing and lifting the panels. Ever wondered why a garage door that weighs around two hundred pounds, or even more in some cases, is very easy to lift over your head like it weighed a feather? You have the springs to thank for that. And when they break, you have to be careful, as not only can other parts of the door break if you keep using it, but you or your family members can also wind up hurt. With experienced garage door spring replacement technicians near Rogers ready to help you at a moment's notice, you don't have to take these risks. When a problem like this crops up, you've got a fast solution very close by.
Rogers Garage Door Springs Replaced Expertly
After well over ten years of repairing garage doors and replacing broken springs, our technicians know how to apply these fixes as fast as possible. And with no hidden charges or unexpected fees! Your wellbeing is paramount to us, as is your time, so we always carry out the necessary task quickly, without compromising anyone's safety. Got a need for a quick replacement for broken garage door springs in the Rogers area? Then all you need to do is let us know!